Low-carb and plant-based go hand-in-hand seamlessly with delicious and nutritious vegan keto meals that you can make at home. The healthy dishes we'll teach you how to make in this article are perfect if you're cutting back on carbs as well as avoiding animal products.
These vegan keto meal ideas prove that the vegan diet and the keto diet, when combined, are not an oxymoron. After all, many people find that the "keto-tarian" or the ketogenic plus vegan diet don't go together because they're vastly different.
Veganism prohibits animal products, from dairy and eggs to animal meat, and encourages the consumption of grains, fruits, and veggies, which are generally high in carbs. On the other hand, the keto diet prohibits starchy veggies or grains and sweet fruits while encouraging the consumption of high-fat and moderate protein from poultry, eggs, meat, cream, butter, and other full-fat dairies from animals.
This means people assume that there aren't many vegan keto meals out there.
Keto dieters cut out carbohydrates to get their body into ketosis. Instead of burning glycogen or sugar, the body morphs into a ketone or fat-burning machine. If you want to become fat-adapted as a vegan, this means limiting your veggie and fruit intake to those that have minimal grams of carbs. Although this may seem more challenging, it's not entirely impossible.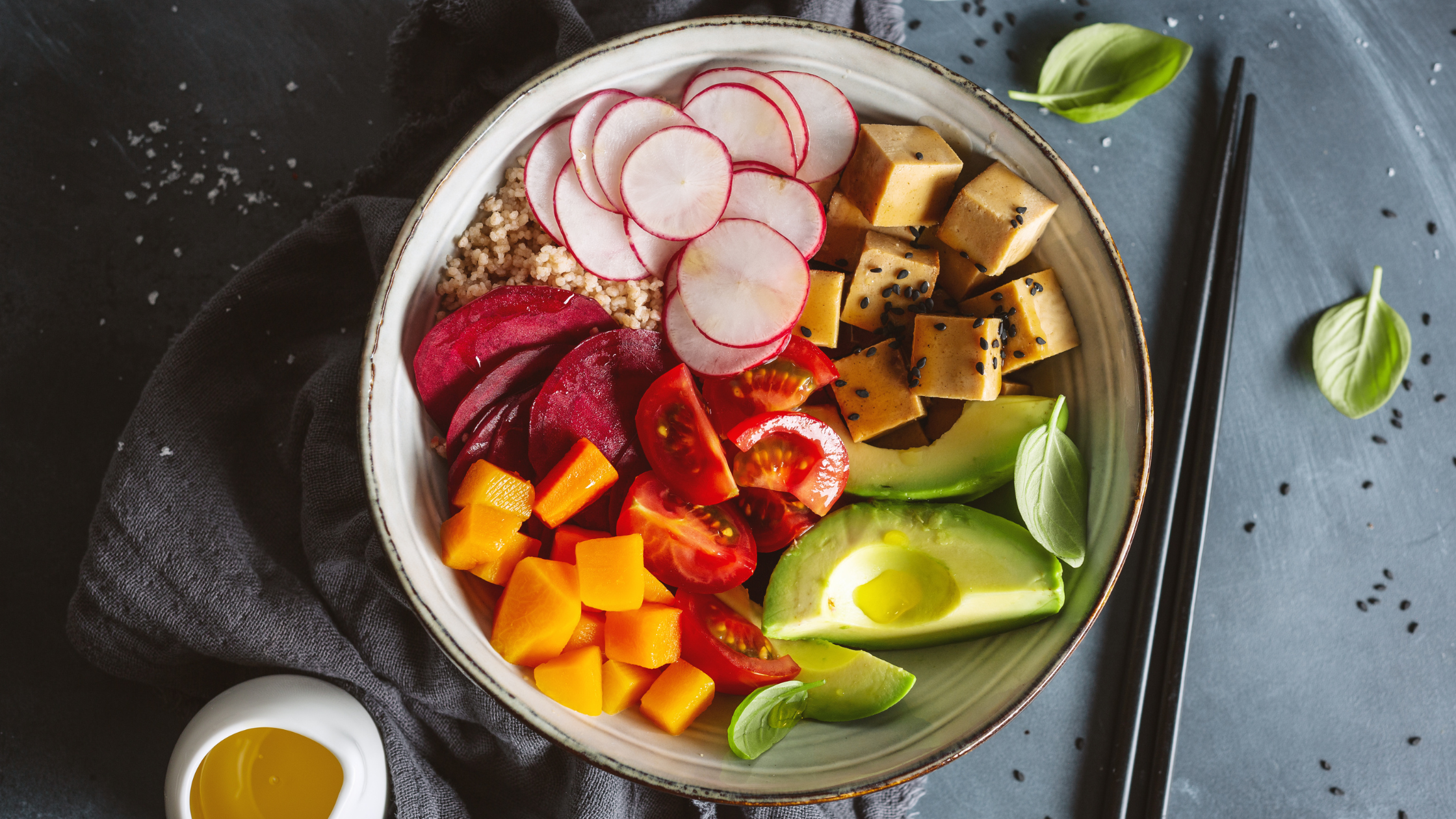 What Makes Vegan Keto Meals Good For You?
When it comes to energy for the body, fat as a fuel source is akin to a log set on fire. It burns slowly and lasts long. Hence, studies show that becoming keto-adapted provides your body with sustainable energy to help you survive a grueling day. Staying in ketosis is excellent for your metabolism and brain while also helping you crush food cravings. Eating keto meals could keep you full for longer, aid in weight loss, and lower visceral fat adiposity.
By the same token, following a vegan diet is good for you. Research shows that it promotes weight loss, minimizes the risk of heart disease by lowering bad cholesterol levels, and reduces the chances of colon cancer. Unfortunately, Dr. Will Cole said, "I have seen countless well-intentioned keto eaters grow fearful of consuming vegetables. Sadly, they are unwittingly missing out on the phytonutrients and prebiotic foods needed for a healthy gut microbiome."
Thus, following a vegan keto diet would allow you to reap tons of valuable benefits. Remember, vegans could still do keto by consuming high-fat plant products like avocado, coconut oil, nuts, and seeds. If you're a keto vegan, you can still reach the state of ketosis by eating low-carb, moderate protein, and high-fat food without using animal products.
Check out these vegan keto meal recipes with no grains but lots of veggies and tasty spices to whet your appetite.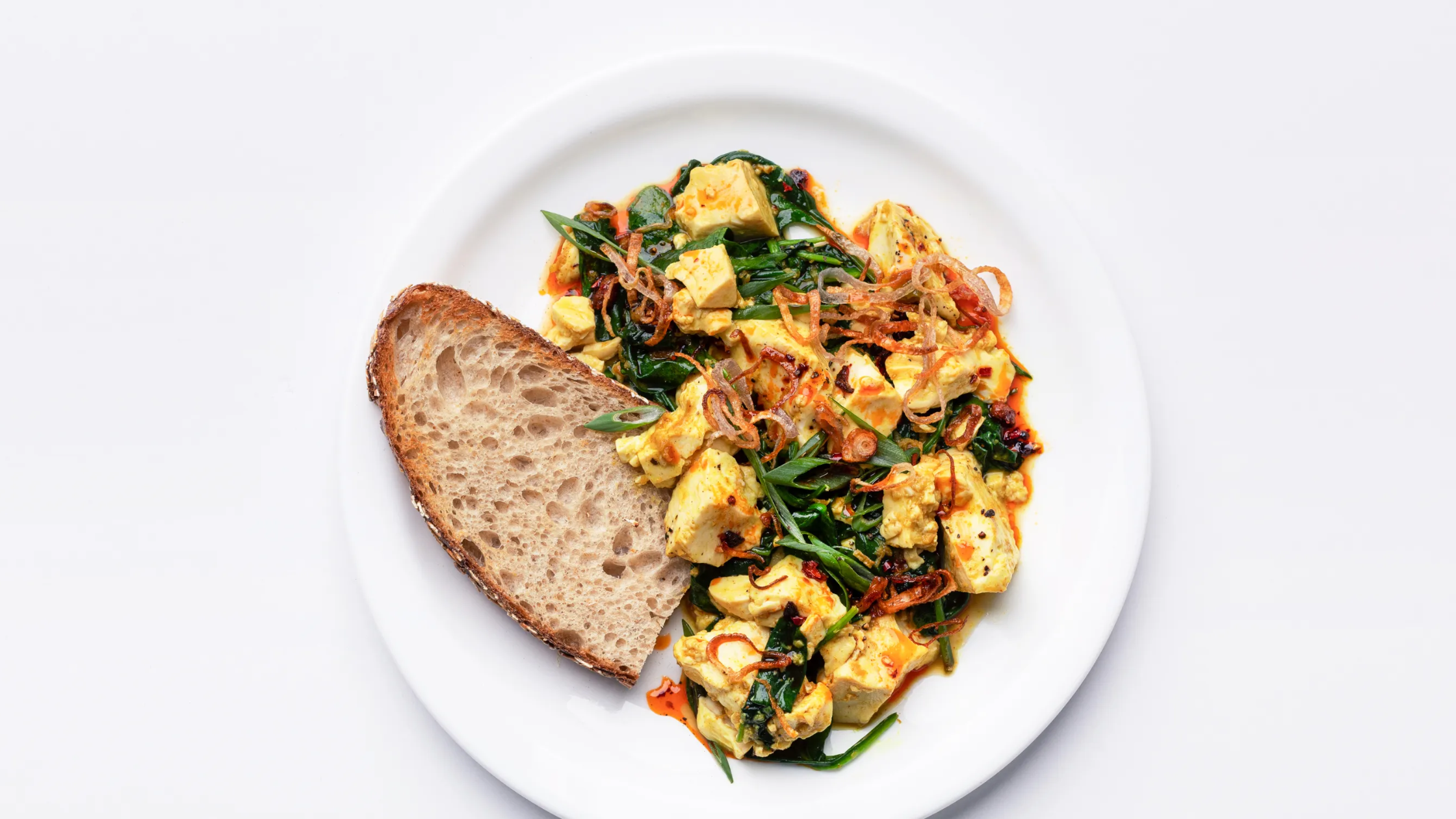 Breakfast: Silken Tofu Scramble
If you're looking for vegan keto meals for breakfast, don't miss out on this delicious low-carb treat. This silken tofu scramble is the perfect consistency; you'll have a hard time believing it's not real eggs. You can eat this tofu scramble with avocados and keto toast to make your own low-carb version of the trending avo-egg toast.
Ingredients:
1 small onion diced
1 clove minced garlic
1 tbsp nutritional yeast
2 cups button mushrooms finely chopped
1 ½ cups silken tofu
Salt and pepper to taste
1 tsp turmeric
Chopped parsley and chive for garnish
Heat a non-stick pan and add a splash of olive oil. Saute onion and garlic until aromatic. Add the nutritional yeast, mushrooms, and seasoning, then mix them thoroughly until cooked. Add silken tofu when the mushrooms are golden, and the liquid has evaporated. Break it down gently with a ladle, just like traditional scrambled eggs.
Keep cooking until the tofu stops releasing water and a golden skin forms. Be careful not to overwork the tofu. Finally, garnish with parsley and chives. En voila, you've got flavorful keto-vegan "eggs," which you can serve with keto toast or even as a topping for salads. This is about 200 calories with 16 grams of net carbs.
Breakfast For Dinner: Super Versatile Almond Waffles
Your vegan keto meal ideas list must include these waffles because they're versatile yet remain egg, sugar, and grain free. You can eat this crispylicious but fluffy treat for breakfast, snack, lunch, or dinner. It has little square pockets perfect for puddles of sugar-free syrup and vegan cool whip or coconut cream for a sweet breakfast or a midday snack with your favorite nut butter.
Ingredients:
1 tbsp ground flax seeds
2 ½ tbsp water
1 cup almond flour
½ cup tapioca starch
1 tsp baking powder
½ cup almond milk or other non-dairy milk
2 tbsp applesauce
2 tbsp nut butter
1 tsp vinegar
1 to 2 tsp agave syrup
Pinch of salt
Whisk ground flax and water and set aside to thicken. In a large mixing bowl, combine all dry ingredients. Add in the rest of the ingredients along with the thickened faux flax egg. Mix thoroughly to incorporate the elements. Next, heat the waffle maker and grease it to prevent sticking. Cook as you would a regular waffle. This makes three to four servings (depending on the size of the waffle maker) with 192 calories and about 20 grams of net carbs per serving. You can make a big batch ahead, freeze it, and just pop an almond waffle in the toaster to heat up as needed
Lunch or Dinner Ideas Using Vegan Waffles
You can also morph these waffles into a quick savory lunch or dinner, using them as a sandwich for different stuffings. What's nice about making these waffles as your faux bread is you made them from scratch. You know the ingredients and can be confident that they have no preservatives. You can try the following vegan keto fillings for your "waffle-wich":
Vegan mayo tofu scramble filling with lettuce and bean sprouts
Avocado with tomatoes and balsamic vinegar dressing
Roasted bell pepper, zucchini, and mushroom with arugula and creamy ranch
Cucumber slices and vegan cream cheese with dill and minced garlic
Portobello mushrooms sauteed in garlic with vegan cheese and purple cabbage
Creamy artichoke and spinach with red and yellow bell peppers
Roasted eggplant sandwich with tahini and caramelized onions
And then imagine pairing this delightful waffle with crispy tofu nuggets and coleslaw salad for a classic breakfast for dinner. This is the vegan keto version of classic chicken and waffles. These almond-based waffles are perfect meal prep companions because they store well in the fridge and freezer. But be wary if you have a nut allergy, as this contains almond flour.
Vegan Keto Meals That Make Hearty Snacks
Conquer your growling stomach with tasty vegan keto meal recipes perfect for in-between meals. These vegan-friendly and keto snacks will help stave off hunger pangs while keeping your body fat-adapted. You should have a lot of these snacks on hand so you won't be tempted to reach for junk food.
Avoid feeling "hangry" because being hungry+angry could lead to poor food choices that will throw your body off ketosis. That's why it's important to have an arsenal of vegan keto meal recipes within your reach. Check out these hearty snack ideas that are keto-tarian friendly:
Celery bites with nut butters and sugar-free choco chips
Broccoli florets with vegan cream cheese and chives
Fried eggplant chips with Himalayan salt and kewpie mayo dip
Cauliflower hummus with keto pita bread
Pre-packed trail mix with roasted almonds and sugar-free choco chips
Crispy parmesan chips with avocado guacamole dip
Low-carb toasted tortilla chips with tomato salsa
Keto vegan energy balls (recipe below)
Chia pudding with coconut cream
Artichoke dip with red bell peppers
Keto Vegan Energy Balls
Make your own energy balls for a quick pick-me-up. It's the perfect fat bomb to give your keto-adapted body a boost with 57 calories and 2 grams of net carbs per piece. This 3-ingredient recipe is absolutely foolproof. It's so easy, even young kids can do it alone. This lasts up to two weeks in the fridge and five months when frozen.
Ingredients:
2 cups sunflower seed butter or soy nut butter
½ cup sticky sugar-free syrup of choice
¾ cup coconut flour
Warm up your butter in the microwave or stovetop to make it smooth and pliant. Mix in your syrup and fold together well. Add the coconut flour until fully incorporated. The batter should be thick and not runny. You can add a bit more flour so it will hold up its shape. Line a large pan with Silpat or parchment paper. Use mini ice cream scoops or your hands to form balls. Once done, pop it in the fridge and wait for it to firm up even more. Delish!
Easy Dinner: Asian Stir-Fry Shirataki Noodles With Tofu and Veggies
Vegan keto meals that are fuss-free and ready in 15 minutes are a dream! This delicious stir-fry lives up to that, featuring bouncy miracle noodles that are naturally super low carb. One serving or 8 ounces of traditional shirataki noodles has 20 calories and zero net carbs. Best of all, preparing this delish homemade goodness is so much faster than driving for takeout or ordering from Uber Eats.
Ingredients:
1 tbsp neutral oil
5 tbsp soy sauce
½ pack of extra firm tofu cut into cubes
1-inch ginger peeled and minced
1 cup broccoli chopped
½ cups mushrooms sliced
1 single-serve pack of traditional shirataki noodles drained
1 tsp red pepper flakes
1 tsp rice vinegar
1 tsp of sesame seeds
1 stalk of chopped green onions
In a pan, heat oil and 1 tbsp of soy sauce. Toss the tofu into the mixture, stir-fry on medium-high heat for 10 minutes or until golden, and set aside. In the same pan, add more oil (if needed) and heat ginger and garlic. Once the aroma permeates, add the broccoli and mushroom. Add all the remaining condiments and spices then toss in the shirataki noodles. Cook for several minutes, stirring constantly on high heat until the noodles absorb the sauce. Remove from heat and garnish with sesame seeds and chopped green onions. Enjoy this dish without guilt since it's roughly 250 calories with 9 grams of net carbs.
Low-Carb Sweet Treat: Keto Vegan Brownies for the Win
Cook books featuring vegan keto recipes need space for dessert. Enjoy a guiltless sweet ending to your meals with this no-bake brownie. Whether you have a sweet tooth or enjoy savory dishes, you will love how these sugar-free vegan brownies will cleanse the palate. One piece of this decadent treat melts in the mouth. It feels so sinful but it only has 2.3 grams of net carbs a piece and 180 calories.
Ingredients:
1¼ cups raw or roasted almond
⅓ cup coconut oil
1 tbsp coconut flour
1 cup desiccated coconut (plain and unsweetened)
½ cup + 1 tbsp unsweetened cocoa
1 tsp vanilla
¼ sugar-free syrup
¼ cup clean, room-temp water
Frosting:
¼ cup sugar-free
3 tbsp coconut oil
⅓ cup unsweetened cocoa
1 tsp vanilla
Add all brownie ingredients (except for the frosting) to a food processor. Run the machine until everything comes together. Make sure to pause and scrape the sides once or twice to ascertain all the ingredients are incorporated evenly. If you think it's too dry, you can add a tablespoon of water at a time. Conversely, if the batter is runny, add a teaspoon of coconut flour. Once it has reached your desired consistency, transfer it into a pan covered in parchment paper, and greased with coconut oil. Pop the brownies in the freezer and prepare the frosting.
Coconut oil should be melted, but when it's cold out, it could solidify even at room temperature. When that happens, microwave it with the sugar-free syrup at 30-second intervals. After, combine the rest of the ingredients until the frosting has no lumps. Remove the brownies from the freezer and top them with frosting. Let everything sit in the freezer for ten minutes then slice into 16 pieces. The brownies will store well in the freezer in an airtight container for up to three weeks. You can defrost it easily at room temp for an hour and enjoy gobbling it up.
Are You Ready to Give Vegan Keto Meal Recipes a Try?
If you're a vegan embarking on a low-carb journey such as the keto diet, you don't have to worry about limiting yourself, because there's a wide array of foods that you can still enjoy despite cutting out animal products and high-carb foods. In fact, even eating out or eating with the family shouldn't be a problem.
For starters, always tell your server or host about your diet restrictions. Most restaurants are willing to accommodate requests. When you see something you like on the menu, you can always ask about low-carb and non-dairy substitutions and replacements. For example, even the popular fast food burger joint Burger King offers a plant-based Whopper. You can just ditch the burger buns and mayo. Then ask for more lettuce to make everything keto. It's not the first time they've had to serve someone a burger with a lettuce bun, that's for sure.
Furthermore, as you're taking a look at your vegan keto meal options, don't forget to read the fine print. Otherwise you could consume 'hidden' carbs in the form of hidden sugars in the sauce, for example. You can also ask your server if you have any questions. Dining out and enjoying time with family as a keto vegetarian is not impossible. And most likely, your family and friends would gladly cater to your needs because dining with them is not just about the food but the companionship and camaraderie.
When you're following vegan keto recipes, make sure you read all the ingredients. You can be allergic to some of the raw materials on the list like nut-based butters and flours. For best results, take a CircleDNA test to get a comprehensive genetic diet and nutrition report. Apart from ancestry information, genetic health risks, genetic personality traits, and more, you can find out if you have possible genetic food sensitivities, or intolerances. These DNA tests also inform you of which foods you might need more of, because of your DNA.
References:
The Potential Health Benefits of the Ketogenic Diet: A Narrative Review (Kathryn Dowis & Simran Banga) https://pubmed.ncbi.nlm.nih.gov/34068325/
Health Benefits of a Vegan Diet (Rush Stories) https://www.rush.edu/news/health-benefits-vegan-diet
Is Keto-Vegan an Oxymoron? (Jonny Bowden) https://wholefoodsmagazine.com/columns/nutrition-mythbuster/is-keto-vegan-an-oxymoron/